Macauley Chrisantus Says He Went Through Hell In Turkey
Published: February 22, 2015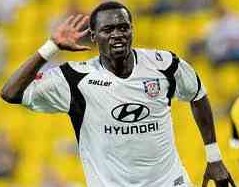 Golden Shoe winner at the 2007 Fifa Under 17 World Cup, Macauley Chrisantus , has thanked the staff of AEK Athens for the warm reception received since joining the club from Sivasspor in the winter transfer market.
The former Hamburg starlet has admitted that he encountered problems while defending the colours of Sivasspor, which contributed to his decision to severe ties with the Turkish Super Lig side.
"I feel welcome in the team and everyone helping me adapt as quickly as possible to my new environment. It is very important to help everyone to become as quickly as possible a team member.
"All My friends in the group, with everyone trying to communicate. We are a team. We are like family. And in a family does not distinguish who is good and who is not. So I try to have contact with everyone, " Macauley Chrisantus told the official webpage of AEK Athens.
He went on : "Each country has offered me experiences, even in Turkey, where I spent hard times. I had to see how I would face the problems I encountered and it made you stronger and to try even harder.
"In Turkey it was very difficult. I felt it myself. The language was difficult and I was not communicating so well with my teammates."
Chrisantus is presently staying in a hotel but plans to get an apartment near the training ground in the coming days.
He has made two appearances for AEK Athens in the First Division since completing his transfer.

Latest News