Rilwan Hassan Pleased With Draw Against Esbjerg
Published: April 06, 2015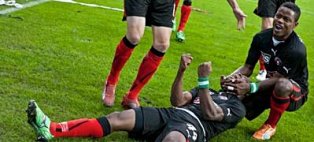 Rilwan Hassan was pleased that FC Midtjylland managed to get a point from their Superliga clash against Esbjerg.
The Wolves were two goals ahead before the opponents netted three times in a space of six minutes, but hat - trick hero Martin Pusic leveled matters in the 90th minute.
"It was a great game for us, and we shall be glad with one point," Rilwan Hassan told the official website, fcm.dk
"I will give credit to the team who did really well in the first half. We had planned it here at the training ground, and we followed the plan to the fullest."
The winger has started the last five games contested by FC Midtjylland in the league, having struggled with injuries last year.
Hassan created two assists in the 3 - 3 draw with Esbjerg on Sunday evening.