Penn Orji Captains England Legend David James In Indian ISL League
Published: April 17, 2015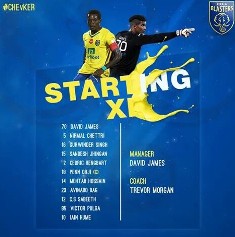 The cult status that Nigerian midfielder Penn Orji has attained in his sojourn in India can only be better highlighted by the singular act of being made captain of ISL franchise club Kerala Boosters over more established and internationally known players as former England goalkeeper David James, and a host of other big name stars.
The Indian Super League is a professional football league that features eight franchise teams from all around India.
The league runs from October to December, with a finals series determining the champion.
Unlike the majority of football leagues around the world, the ISL does not use the promotion and relegation system.
Instead, it uses a franchise system in which eight teams were created to participate in the league
One of those franchises is Kerala Boosters based in Kochi, Kerala and in the inuagural Indian Super League season, they boasted of the likes of Michael Chopra, Ian Hume, Jamie McAllister, Andrew Barisic, Colin Falvey, Erwin Spitzner and David James.
Former Liverpool keeper David James figures third on the list of all-time English Premier League appearances (536 games) and holds the Premier League record for most clean sheets (173) and is the oldest goalkeeper to appear in an FA Cup final at age 36.
The MBE award winner for services rendered to football and charity, has won 53 caps for England between 1997-2010 and was first choice goalkeeper at the Euro 2004 and 2010 FIFA World Cup.
He won the FA Cup with Portsmouth in 2008, League Cup with Liverpool in1994-95 and Player of the Season for Watford (1990-91) and Portsmouth (2006-07).
Penn Orji also led a pack of Indian based players in the team and captained the team all the way to the final where they lost to Atlético de Kolkata after a dramatic 95th minute goal.
With the ISL not in action now,he now plays for Shillong Lajong a club in the regular Indian League.