David Alaba Hoping Bayern Munich Beat Barcelona 4 - 0
Published: May 11, 2015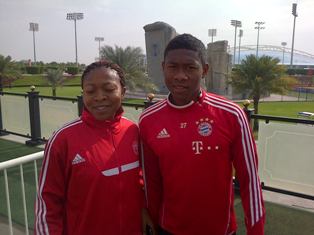 Ahead of Tuesday evening's Champions League clash between Bayern Munich and Barcelona, David Alaba is optimistic that the German champions can overturn a 3 - 0 first leg defeat.
The Austria international sat out the tie at the Camp Nou, and will miss tomorrow's game at Allianz-Arena even though he has resumed light training with the Bavarians.
"In the second leg, we'll win 4-0 and I hope I'm fit to play the final in Berlin," said David Alaba.
Alaba has made 6 appearances in the Champions League, scoring two goals, but has not featured in the competition since the 7 - 0 thrashing of Shakhtar Donetsk on March 11.
The return match will begin at 1945 hours Nigerian time.