Kelechi Iheanacho Ready To Miss Flight To New Zealand To Make Manchester City Debut
Published: May 24, 2015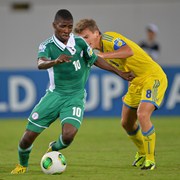 Flying Eagles striker Kelechi Iheanacho says he is prepared to miss his flight to New Zealand so he can make his debut for the first team of Man City versus Southampton on Sunday.
But first team manager, Manuel Pellegrini , has dismissed suggestions that he is set to hand the Nigeria youth international his official debut, saying he will keep the team that played the last game.
"I don't know (if i'll be involved), I play for City. If they tell me to come and play for the first team I will come and play. I'll change my flight, " Kelechi Iheanacho told
Manchester Evening News
.
The 18- year - old netted twice as City's EDS came from a goal down to beat Manchester United U21s 3 - 1 in their final game of the season on Saturday.
"In the first half I was so nervous to play and I lost many balls.
"But when I went in the dressing room at half-time the coach told me to work harder and be stronger, forget everything and concentrate. So in the second half it was a lot better,"he said to the English newspaper.
Photo Credit : fifa.com