TribalFootball.com Speaks on Peter Taylor
Published: February 07, 2010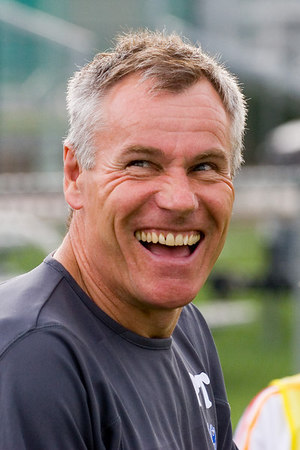 Editor of one of the top five football websites in the world,tribalfootball.com,Chris Beattie,has spoken exclusively to allnigeriasoccer.com on Peter Taylor,who made the shortlist of coaches for the vacant Nigerian position.
''Peter Taylor deserves to be considered by the Nigerian FA. He has an excellent reputation within English football thanks mainly to his work with the U21 team, where he enjoyed two successful spells.''
''He's managed in the Premier League with Leicester City and enjoyed varied success with clubs like Hull City and Crystal Palace. He's really regarded as a genuine coach, rather than a manager, in other words, he is great at getting the best out of players he is working with, rather than buying and selling as is required at club level.
Nigeria wouldn't be Taylor's first senior national team job, as he took charge of one game as England manager before Sven Goran Eriksson took over. It was actually Taylor who had the foresight to give David Beckham the England captaincy for the first time in that game in 2000 against Italy.
Taylor's teams are known for a passing style of football, which is why he is so highly regarded. I guess the one question mark would be if the Nigerian public will accept someone taking charge for the World Cup who is a relatively unknown quantity? The onus would be on Nigerian football fans to give Taylor the opportunity to get his ideas across not only to the players, but also the public.''
Peter Taylor may have been recommended to the bigwigs at the NFF by Tunde Adelakun,its England based consultant,and owner of New African Soccer.He is also a member of the bid team for England's quest to host the World Cup in 2018.
Report by Ifeanyi Abanum
Copyright 2010 allnigeriasoccer.com. All rights reserved.