Ahmed Musa Celebrates CSKA Moscow Win Over Sporting Lisbon
Published: August 27, 2015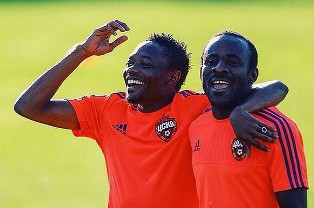 Ahmed Musa took to social media to express his happiness after netting the winning goal as CSKA Moscow beat Sporting Lisbon 3 - 1 to advance to the group stage of the Champions League.
The Nigeria international posted a picture of himself and Ivory Coast international and strike partner Seydou Doumbia in a joyous mood.
Musa said on Instagram :
"
We are Champions รฐŸ"ยตรฐŸ"ยดรฐŸ'ƒรฐŸ'ƒรฐŸ'ƒรฐŸ'ƒรฐŸ'ƒ.
"

The 22 - year - old forward has averaged 0.5 goals per game in this season
's Champions League.

He has racked up 1, 603 minutes of game time in European competitions including the Europa League.