Tottenham Hotspur Midfielder Dele Alli Eager To Make Home Debut
Published: August 28, 2015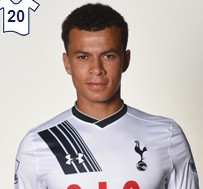 Tottenham Hotspur's Anglo - Nigerian midfielder Dele Alli reckons that the White Hart Lane outfit can secure their first win of the season when they tackle Everton at home on Saturday.
And the England youth international believes the team will deliver if the supporters turn out en masse to cheer the players.
"The fans were amazing when I came on at Leicester last week, " said Dele Alli to tottenhamhotspur.com.
"They've been incredible since I've been here and I can't thank them enough for their support.
"Of course, I'm hoping to get some game time and make my home debut at the Lane, but if it doesn't happen this weekend, I'm confident it will come soon."
The 19 - year - old Alli scored his first goal in the Premier League last weekend against Leicester City.