Midtown Soccer Explains Shift In Talent Identification Camp
Published: August 30, 2015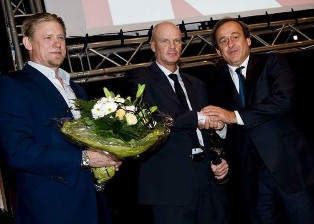 Ibadan based Midtown Soccer School has ascribed the shift for its much publicized 2015 Talent Identification & Coach Education program scheduled for 7 to 11 September, in Ibadan where a top Danish soccer tactician Tommy Moller Nielsen expected to anchor the event.
Nielsen, who was formerly with FC Vestsjælland, known as FCV Vikings, a professional Danish football
club currently playing in the Denmark's 1st division is to conduct Coach Education Clinic for youth coaches in Oyo State while he will also be scouting for exceptional talented players ranging from the ages of 16 to 21years.
A new date for this lofty soccer capacity building program according to Kayode Mobolaji, the CEO of Midtown Soccer School would soon be made public, saying Coach Nielsen who is the main resource person for the event is on the verge of putting pen to paper for another Danish club.
The Midtown boss noted that new date for the event will be announced immediately the UEFA licensed Coach finalized his contract, adding that the development would also be of great benefits to any players picked from the event, as Nielsen would facilitate their call-up to his new team for further skills development.
He however, urged Oyo State Football Association and Nigeria Football Coaches Association, Oyo State Chapter that suppose to play the role of co-host to the expatriate and the potential participants to exercise patience with his outfit and see the postponement as a blessing and opportunity for better outing.
Latest News