FC Midtjylland Winger Rilwan Hassan Out Of Action Until 2016
Published: September 03, 2015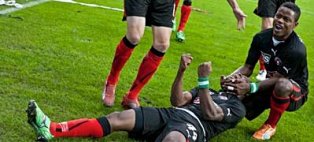 FC Midtjylland winger Rilwan Hassan has undergone an operation after breaking his fibula in two places last weekend against Hobro in the Danish Superliga.
If he does not suffer a relapse during his recovery from the injury, the 24 - year - old will play his first game for
The Wolves
when they tackle AaB at the end of February.
"The surgery went well , and now he has the leg in plaster for a week . Then he will have a special boot on for five weeks , before embarking on a lengthy rehabilitation," Hassan's agent, Klaus Granlund, told bold.dk.
"Of course you never say never, but no one expects that he gets to be with the team again in the fall .
"He comes usually very quick , let 's see now , but it is not realistic that he gets to play this year."
Rilwan Hassan is spending his seventh consecutive season with the first team of FC Midtjylland.
Latest News