Fegor Ogude Suspended For Three Games By Russian Federation
Published: September 03, 2015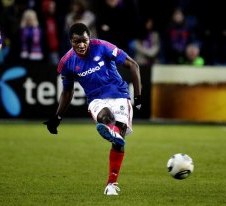 The Control and Disciplinary Committee of the Russian Football Union has suspended Fegor Ogude for three matches for violent conduct in Amkar Perm's Premier League clash against Rostov on August 28.
In the 58th minute of the tie held at Stadion Olimp 2 (Rostov-na-Donu), the Nigeria international was dismissed by referee Aleksey Matyunin after he threw the ball on the face of Timofey Kalachev.
According to championat.com, Ogude, who was not present but wrote a letter, explained to the RFU that he was provoked by the Belarusian midfielder.
The referee concurred with the Nigerian but argued that he yellow - carded Timofey Kalachev.
As a result of the punishment, Fegor Ogude will not be allowed to participate in Premier League games against Kuban Krasnodar, Zenit St Petersburg and Spartak Nalchik .