Chuma Anene Bids Emotional Farewell To Rabotnicki Faithful
Published: September 04, 2015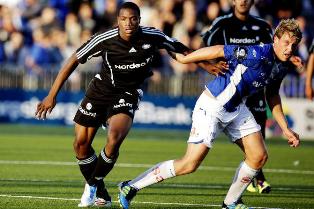 New Amkar Perm striker Chuma Anene took to social media to bid farewell to the supporters, teammates and coaching staff of his old club Rabotnicki.
The Oslo - born player is scheduled to arrive in Russia on Saturday, September 5 to begin his new adventure with Amkar Perm after he was issued a Russian visa on Tuesday.
"I can't begin to explain how much this club has meant to me- the fans, the players, and Rabotnicki as a club," Chuma Anene stated.
"Started from the bottom, now we're here is a fitting way to describe the journey. It's all been absolutely amazing. Rabotnicki is family. It's blood.
"Each and everyone in and around the club deserves a medal. Deserves the best we can get. We succeeded together, and individually we are going to succeed. "
Last season, the 22 - year - old Anene assisted Rabotnicki finish second in the Macedonian top flight, scoring 7 goals from 27 games but he has admitted now that it wasn't all smooth sailing before he arrived the country from Norway.
"Rabotnicki is something no one can duplicate. It's authenticity. It's love. The number 1 team in Macedonia. No money will buy that. God bless each and everyone of you. .
"When life gives you lemons, make a freaking lemon juice factory. Bye bye, Rabotnicki. Goodbye, Macedonia. Until we meet again. "
Chuma Anene, who has represented the youth teams of Norway , has committed his international future to Nigeria at senior level.