Aguero, Yaya Toure, David Silva And Raheem Sterling Lavish Praise On Iheanacho
Published: September 12, 2015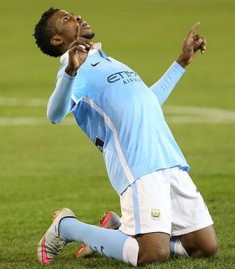 Manchester City stars took to social media to congratulate Kelechi Iheanacho for scoring the match - winner in their 1 - 0 victory over Crystal Palace.
The Nigeria youth international was the hero for The Citizens, coming off the bench to score in the 90th minute and not only did that goal give City the maximum points, it was their 11th win in a row in the Premier League.
Raheem Sterling suggested that Iheanacho is in a league of his own, tweeting : " Uncle Kelechi Γ°Ÿ'. "
Argentina star Sergio Aguero said : " Great win and a brilliant job by the team on a difficult turf. Congrats @67Kelechi for the goal!"
Current African Footballer of the Year, Yaya Toure added : "A hard fought 3 points!! Well done on your goal @67Kelechi Γ°Ÿ'Γ°ŸΒΎΓ°Ÿ'Γ°ŸΒΎΓ°Ÿ'Γ°ŸΒΎΓ°Ÿ'Γ°ŸΒΎ #ComeOnCity ."
World Cup winner David Silva has predicted that Iheanacho will score more goals for Manchester City this season.
The Spain international said : "First of many @67Kelechi Γ°Ÿ'Γ°ŸΒΌΓ°Ÿ'Γ°ŸΒΌΓ°Ÿ'Γ°ŸΒΌΓ°Ÿ'Γ°ŸΒΌ!! Cmooooon!."
Kelechi Iheanacho has suited up two times in the Premier League in the ongoing season.
Photo Credit : mcfc.co.uk