Ahmed Musa : First Time In My Career My Team Will Come From Three Goals Down To Win
Published: September 21, 2015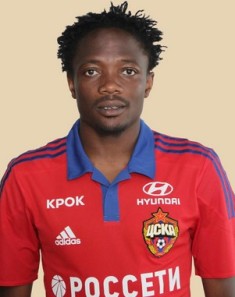 Nigeria international Ahmed Musa has admitted that Sunday's Premier League clash against
Mordovia was the first time in his career that his team will come from three goals down to defeat an opponent.

And the CSKA Moscow star played a key role in the come - from - behind 6 - 4 win, scoring a brace and creating one of the goals scored by strike partner Seydou Doumbia.


"This is the first time in my career. Never before has my team lost after the first half 0 - 3 and was able to return to the game," said Ahmed Musa to rusfootball.info .
"After the first half we were a bit overwhelmed. During the break, the coach said that there is honor, there is professionalism - it is necessary to protect our name.
"We then believe in ourselves, went on the field and proved that we did not in vain chose this profession and that we are the real professionals."
In 14 appearances in all competitions this season, Musa has found the back of the net 8 times and assisted 2 goals.
Photo Credit : pfc - cska.com