Roma Rising Stars Sadiq Umar, Nura Abdullahi Inching Closer To Debut
Published: October 05, 2015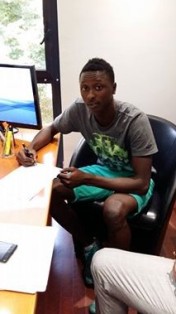 Roma's rising stars Sadiq Umar and Nura Abdullahi are inching closer and closer to making their first team debut for
The Giallorossi
after making the bench against Palermo in the Serie A on Sunday.
The teenagers were both beneficiaries of a Serie A ruling that came into effect three years ago, allowing teams to name a maximum of 12 players on the substitutes bench, and the injuries to
Rudiger, Dzeko and Totti.
Striker Sadiq Umar, who was wearing the number 97 kit, and the number 99 Nura Abdullahi did not get game time at the Stadio Renzo Barbera as Roma beat their hosts 4 - 2 .
Nura Abdullahi has been involved in 3 goals for the Primavera team of Roma while Sadiq Umar has scored 6 goals.
As confirmed by his intermediary last week, Barcelona are keeping tabs on the defender.

Latest News