Aalesund Expect Leke James To Resume Training This Week
Published: January 17, 2016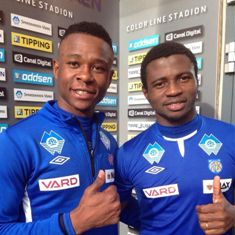 Color Line Stadium outfit Aalesund are hoping that Leke James, 23, will resume training with the club this week.
The attacker has missed the last two weeks of pre - season training due to a groin problem.
"
There is no question of an injury , it
'
s more that he is tired in both groins . Therefore he runs alternative training now at the start of this year, " AaFK physiotherapist Bjorn Erik Melland told Aftenposten.
"
I reckon that he is back in training soon . Hopefully as soon as next week .
"
We would prefer everyone on the field from day one , so ideally we should have had him on the field."
James, who bagged 13 goals in the top - flight in 2015, is strongly been linked with a move away from Aalesund before the close of the transfer window.