Confluence Queens Vow To Report Turkish Club Atasehir Belediyespor To Fifa Over Illegal Transfer Of Carine Ndum
Published: January 27, 2016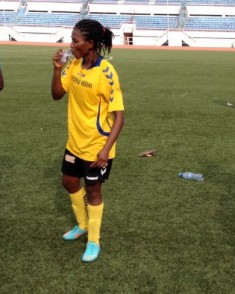 Lokoja-based Nigeria Women Premier League, NWPL side, Confluence Queens FC have confirmed their attacking midfielder Carine Yoh Ndum is missing after the player refused to return back to the club for pre-season training.
The Cameroonian forward Carine, was signed during the 2013/14 season from Panthere Security Football Filles, Garoua in Cameroon.
The creative midfielder, who was still expected at the club, has reportedly signed for Turkey Women League side, Atasehir Belediyespor through the Nigeria Football Federation, NFF
'
s International Transfer Certificate ( ITC) without the knowledge of Confluence Queens.
However, Confluence Queens who have officially reported the matter to the NFF, have vowed to get to the root of the matter on Carine
'
s transfer according to the club spokesperson Tosin Ojo.
"We can officially confirm to you that one of players, Carine Ndum has been missing from the club," begins Ojo.
"She was supposed to have resumed with us since 4th of January, and the report we gathered was that she has signed for a Turkish Women Football club Atasehir Belediyespor without our knowledge, and was cleared by the Nigeria Football Federation
'
s ITC.
"We are very frown at the decision of the NFF to award a player an ITC without the consent of her club, it
'
s a breach of trust from the federation.
"We have written to the NFF to clear us of any doubt as to why our player was granted an ITC without informing us.
"Carine Ndum is our player as we duly cleared her from Panthere Security Football Club of Cameroon, and any club that want her service must contact us.
"Atasehir Belediyespor are making a great mistake signing a player without involving her club. How on earth is it done? This has been a regular misgivings in women football transfers in Nigeria, we will not relent on our efforts until we ensure those involved in this illegal deal are brought to book." Ojo concludes in a statement.
Confluence Queens finished 6th in the last NWPL season after competed at the Super Six competition in Umuahia, Abia State in 2015.
Latest News