Onigbinde Hails Lead City Varsity Boys After Beating Ibadan Poly To Ibadan Cup
Published: March 10, 2016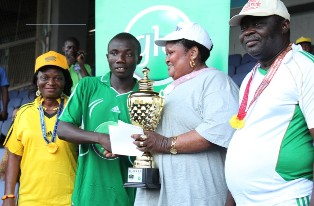 After winning the soccer Gold medal at the recently held Private University Games Association (NPUGA), the Lead City University soccer team has again proved its soccer prowess by whipping the football team of the Polytechnic Ibadan by a lone goal to win the maiden Lagelu Cup.
The soccer tourney which was played inside the main-bowl of the Lekan Salami Sports Complex, Ibadan was organized for tertiary institutions in Ibadanland as part of activities marking the 2016 annual Ibadan week celebrations by the foremost Central Council of Ibadan Indigenes (CCII).
The final match was witnessed by cream of football personalities in the state, as the FIFA/CAF advisor, Chief Adegboye Onigbinde who watched the game from the stands in his reactions after the game praised the good soccer artistry of the Lead City boys, urging the coach of the school, Akinjide Oloyede who was formerly with Shooting Stars to keep a tab on the
boys.
"This was where most of the league sides used to recruits good players in the 80s and early 90s, but the case is not the same now. I can identify five good boys from this Lead City team that are ripe for Nigerian Professional Football League (NPFL)", Onigbinde noted.
University of Ibadan that ended as the second runners-up after falling to the superior firepower of the Polytechnic Ibadan at the semifinal stage was presented with a bronze trophy by the officials of the telecommunication giant, Globacom that sponsored the Ibadan anniversary event.
Speaking at the final match that was the Chairman of the anniversary committee, Rev. Ademola Moradeyo lauded the good conduct and strict disciplinary display of the Lead City University.
"We used to have a soccer competition during the CCII's Ibadan anniversary celebrations every year, but we decided to introduce the tournament to our tertiary institutions this year in order to give them a sense of belonging and we are amazed with their good conducts, especially the privately owned university among them", said the clergy.
Olanrewaju Akanbi Agiri