South Africa Crushed 6-0 By Nigeria In Fifa U17 World Cup Qualifier
Published: March 12, 2016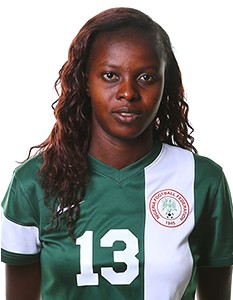 Rasheedat Ajibade netted four goals in the space of twenty minutes as Nigeria annihilated South Africa 6-0 in the first leg of the final round of the 2016 FIFA U17 Women's World Cup Qualifiers at the Abuja National Stadium on Saturday.
The Flamingoes put the Bantwana under pressure and got the early goal they wanted through Yetunde Fajobi two minutes into the one-sided game.
Bala Nikyu's girls continued to be the better side in the encounter.
In the 12th minute, the South Africans were lucky as a free kick from Peace Efih struck the woodwork.
Captain of the Nigerian side Ajibade who struck four goals in the first stanza was denied by Maluleke in goal for the away side in the 19th minute of action.
The visiting team finally carved their first chance on target in the 22nd minute of play. Makhurubetshi hit an ambitious effort that went over the bar.
Two minutes later, Flamingoes goalkeeper Chiamaka Nnodozie was called to action when she produced a big save to stop the Bantwana from scoring.
The save proved to be crucial as Nigeria were two goals up when the mercurial Ajibade capitalized on an error from Maluleke to score.
Ajibade was on the scoresheet again on the half hour mark as she punished the South Africans who failed to clear their lines.
The equally impressive Fajobi popped up to bag a brace for herself twelve minutes to the end of the first half.
The visiting team had no answers to the deadly instincts of the Flamingoes. Ten minutes to the end of the first half, Ajibade got her hat-trick.
Like Oliver Twist, Ajibade wanted more and she bagged her second brace in the 43rd minute of the game to make the score line 6-0.
The first ended 6-0 in favour of Nigeria.
Maude Khumalo's girls preferred to keep it tight at the back in the opening minutes of the concluding half.
In the 73rd minute, Ajibade should have made it 7-0. She dribbled the goalkeeper but put surprisingly failed to apply the final touch to the ball.
Despite series of pressure mounted by the Nigerian girls in the second half, they failed to add to their tally as the game ended 6-0.
The return leg will be played at the Makhulong Stadium in Tembisa on Saturday 26th March 2016.
Kickoff is at 14h00 and entry is free. Only three spots are been reserved for Africa at the FIFA U17 Women's World Cup in Jordan.
Nigeria has featured in all previous editions of the World Cup since it began in 2008.

Flamingoes Starters
: Flamingos starting XI; Nnadozie; Ibe; Dike; Ucheibe; Kenneth; Adeboye; Omokwo; Fajobi; Ajibade (c); Efih; Itu
Reserves
: Obia; Sunday; Duru; Ijamilusi; Aku; Ikoyo; Abdulkareem
Bantwana Starters
: Maluleke; Rhoda; Jordaan; Dhlamini; Holweni; S.Cesane; Makhurubetshi; Dekeda (c); Mashigo; N.Cesane; Digaoto
Ademetan Abayomi


Photo Credit : fifa.com

Latest News