Stakeholders Assure Club Owners Women League Will Resume In April
Published: March 14, 2016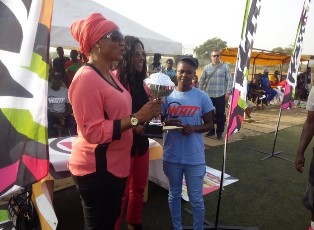 Sunday's stakeholders meeting between club owners of the South South zone of the Nigeria Women Football League and some Adhoc Committee members set up by the Nigeria Football Federation yielded what one could call bright future for Women football in Nigeria.
The meeting had the Adhoc committee chairman, Babagana Kali in attendance and Pelican Stars chairman, Kumo who is also a member of the committee.
Secretary to the NWFL, Ayo was equally present at the meeting. All clubs in the zone were heavily represented by their chairmen, team managers and coaches.
Only clubs from Osun and Lagos were absent from the all important meeting.
The club owners spoke in one voice and asked that elections be put on hold in other for the league to resume.
Issues on players transfer from one club to another within the country was equally addressed as club owners were asked to always ensure they notify the club they have its player to avoid misunderstanding between both parties and proper transfers done to clear players.
Following the previous methods of host teams being the ones to pay match officials their indemnity, the Secretary said that would be looked into to stop match officials from being compromised and quality officials will equally be sent to every match venue.
It was also agreed that match venues be up to standard, no host team should take its opponent to a school field to play a professional league like the women.
Also names of referees in every match day will be published a day before every match day and league tables and results will equally be published.
The Adhoc chairman also hinted that they were on the verge of securing a major sponsor for the league this season and that an individual with verse knowledge on marketing will be appointed to oversee the NWFL.
The committee promised to take all that was agreed on to the Lokoja people who will be meeting on Tuesday after which they'd submit everything to the federation.
The committee chairman assured the club owners that the league would resume in April.

Ademetan Abayomi