Oliseh, Ogunjobi, Bag Meritorious Awards
Published: March 29, 2016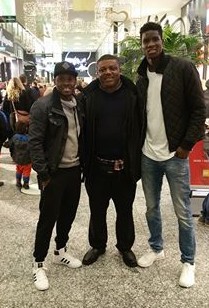 State of Osun Pillar of Sports, Chief Taiwo Ogunjobi, will on Sunday April 3, be honoured with meritorious Award of Excellence in football administration.
The Award of Excellence is organized by Grassroot Football Coaches Council (Oshogbo Local Government Chapter) to recognize prominent sports personalities in the country who have contributed to the growth of football in the State of Osun.
According to a statement issued by Suraj Adeleke, indicates that the programme will be staged at the Sports Complex of Fakunle Comprehensive High School, Oshogbo and is also designed to mark the 10th anniversary of Surad Cup with the finals coming up immediately after the award presentations.
Others that will be recognized with honour in football administration are President FC Ebedei of Sagamu, Barrister Churchill Oliseh, Honourable Waseeu Adebayo, General Manager State of Osun Sports Council, Akin Adio, Director of Sports in the state, Layi Adesiyan, CEO of Owu Sportswear Ventures, Barrister Tunji Brown and Dr. Tiamiyu Bello, among others.
In the media category, Tunde Shamsudeen (Media Officer of Prime FC), Tajudeen Ahmad Omosanjo (OSBC TV Sports presenter), and Sesan Omikunle (Unique FM) are also lined up for Award of Excellence.
Igho Kingsley