2016 Kogi FA Cup: Kogi United, FC Lokoja Tango In Final
Published: April 01, 2016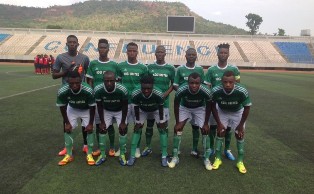 Kogi United and FC Lokoja will trade tackles in the Kogi State 2016 Federation Cup final on Sunday, April 3.
The soccer-loving residents of the Kogi state capital, Lokoja and its suburb will have to patiently watch through the 90 minutes to find out who emerges new champions at the Kogi Confluence Stadium, Lokoja.
Speaking ahead of the final, Mallam Umarr Suleiman Isah, the Chairman of the Kogi State Football Association said this year's finals will be another entertaining one considering various upsets recorded so far in the competition.
"We are prepared for the encounter, its shaping out to be another unique final noting the two clubs involved familiar teams with great history.
"We (FA) are looking forward to seeing a epic encounter with enough upsets already and hope to know the new state champions," Isah said.
However, Secretary of the State FA, Augustine Ogunmola said: "top government officials including the Kogi State Governor Yahaya Bello are expected a at the Confluence stadium to watch the final. We also anticipate seeing all and sundry to come and watch."
In the semi-final, 2014 winners Kogi United eliminated reigning champions Federal Medical Centre (FMC) who will not be able to defend the title they won last year, while bitter city rivals Lokoja FC survived Kogi State University team to secure a place in the final.
Noteworthy, Kogi United will aim for their sixth title while Lokoja FC will be seeking their fourth in history of the state's football competition.
Both finalists have automatically qualified for this year's National Federation Cup finals.
Samuel Ahmadu