Rivers Angels TM Matilda to NFF: Save Women Football In Nigeria
Published: April 26, 2016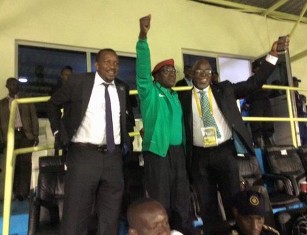 Team manager of Nigeria Women Football League champions, Rivers Angels, Mrs Matilda Oyiloha has described the Annual General Congress of the NWFL held last Friday as a congress marred with too many irregularities.
The Congress had on Friday smuggled in four relegated teams, namely; FC Robo, Martins White Doves, Pelican Stars and Taraba Queens back to the NWFL for this season's campaign which is expected to kick-off on the 21st of May.
Matilda who was present at the congress revealed how these clubs were promoted back to the women premier league
"The first mistake was made when Pelican Stars was brought back into the league after the rules had it that teams that fail to honour up to 3 league games will be automatically relegated," she said.
"Pelican failed to honor more than 3 games last season and they still went ahead to bring them including Taraba Queens that had similar case with them."
"When we started the congress proper, a projector was set and fourteen teams were on the list for draws to be conducted but the other two teams, Martins White Doves and FC Robo had to demand that they be brought back since there was no relegation."
"Before we knew it, everyone was asked to add both teams," Matilda narrated.
Following the scenario that led to the relegation of Pelican Stars and Taraba Queens, Matilda questioned the possibility of these teams executing their games this season.
"What are we even crying for when we keep doing the wrong thing? Three seasons now, no relegation; What is the point shouting the league is dying?
"What are we showcasing to the world? How can sponsors be attracted to the league? And what is the guaranty that these teams can even register let alone executing the league?" A disappointed team manager asked.
She however called on the Nigeria Football Federation to come and salvage the Women Football League.
"NFF please save Nigeria football. Give us an independent body, when you go out there, there're quality consultants and good companies that can come to the aid of women football."
"Even if is for one season or two, once the league has been stabilized, you can now come back to say come and continue.
We want them to come in and re-brand our league," she added.
Ademetan Yomi