Kelechi Nwakali Elder Brother Speaks Out : We Rejected Ajax Amsterdam, I Represent My Brother
Published: May 06, 2016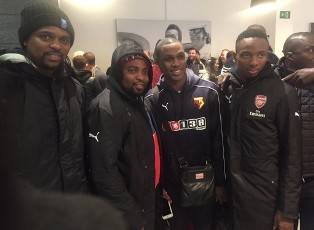 Kelechi Nwakali's elder brother, Allwell Nwakali, has substantiated the claims of CEO ASJ Academy Emeka Amajiriaku as regards to his comments that Klay Ekeocha did not have the capacity to handle the Nigeria U20s skipper's proposed move to Arsenal.
Allwell Nwakali has insisted that the central midfielder has agreed terms with Arsenal and even passed a medical examination , adding that he rejected an offer from Ajax Amsterdam that was brought by Ekeocha because his brother will develop better at the Gunners.
"There is nothing to hide, Klay is a brother and a good friend. After the U17 Nations Cup, Manchester City came and we spoke to their officials in charge of recruitment of young players," said Allwell Nwakali to
allnigeriasoccer.com
.
"I recommended Klay to Man City after he lost out on managing Chidiebere Nwakali, City told me they were ready to sign Kelechi immediately but they changed their mind due to the antics of Klay."
He added : "Klay was fighting for his rights, and not the player or the academy, he was looking for four million pounds for himself from Manchester City. They told Chidiebere Nwakali to tell me that I should withdraw any thing I have to do with Klay.
"He came with an offer from Ajax Amsterdam and Arsenal's offer was three times more and we are talking about euros and pounds here.
"Arsenal is bigger than Ajax in developing young players. Kelechi has signed with Arsenal, he has done a medical, let him sue me if he's aggrieved not Arsenal."
Allwell Nwakali has reiterated that Klay Ekeocha was given an opportunity to work with Stellar Group but he wanted to broker the deal alone and added that the agent contacted Arsenal to call off negotiations.
"After the World Cup, many clubs were calling me, up to ten. Arsenal were the last, Olympiakos were interested, I never knew Klay was not doing his job. He did not have the capacity to work.
"Diamond Academy now gave Stellar Group a mandate and under two weeks they brought an offer from Arsenal. We told Klay to work with Stellar Group but he said no and they promised to give him a certain percentage of the fees.
"I represent Kelechi, nobody can represent my brother. When I was in London, he was calling Arsenal not to sign him and the club informed me," Allwell Nwakali concluded.
The 17-year-old Kelechi Nwakali was courted by teams in Italy,France and Portugal before he traveled to London to negotiate with a deal with Arsenal.
Ifeanyi Emmanuel