Lobi Stars Grind Out Win Over Mountain of Fire And Miracles
Published: May 09, 2016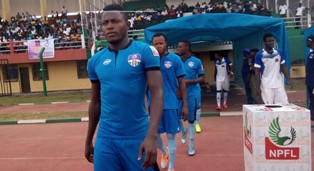 Lobi Stars Football of Makurdi stopped Mountain of Fire and Miracles Ministries Football Club of Lagos from picking points on the road on Sunday after a 1-0 win in match day 15 of the Nigeria Professional Football League (NPFL) played at the Aper Aku Stadium in Makurdi, Benue State.‎
Coach Fidelis Ilechukwu's men began the encounter with the first kick of the ball, Lobi Stars FC got the first shot on target but goalkeeper James Aiyeyemi denied the homer team an early goal with a fine save.
The host piled pressure on the visitors but their defenders were resolute with their defensive play.
Former Under 23 captain, Erhun Obanor, Elom Kenneth, Opara Austin and Monsuru Bashiru kept Lobi Stars attackers silent in the first half of the match.
Coach Ilechukwu was forced to make the first change of the game in added minutes of the first half when tireless defensive midfielder, Paul Atu Irumekhai was injured. He was replaced by Alashe Sheriff.
The first half ended goalless as the two teams made their way into the dressing room.
Lobi Stars FC came out strong in the second half, they mounted pressure on the visitors defence for 8 minutes in the second half but the resilient MFM FC players gave good account of themselves as they absolved the pressure from Godwin Uwua's men.
The host came close to registering a goal in the 58th minute but Antony Okpotu's shot hit the woodwork.
MFM FC attackers, Newman Musa, Sikiru Olatunbosun and teenage striker, Stephen Odey unsettled Lobi Stars defence with Ifeanyi Ifeanyi and team captain, Kenedinum Chuks controlling the midfield.
The homers who could not penetrate MFM FC's defense were lucky to claim the three maximum points in the 69th of the game after defender, Monsuru Bashiru flicked the ball into his goal post as goalkeeper, Aiyeyemi made a touch-line save but the referee adjudged it a goal.
The Makurdi-based fans were thrilled with beautiful display of football from the Lagos-based team as they lauded coach Ilechukwu and his wards despite the 1-0 defeat.
The Olukoya Boys still maintain their 8th position on the log with 22 points from 15 NPFL matches.
Olawale Quadry