Gov Yahaya Bello Promises Total Support For Kogi United, Confluence Queens
Published: May 30, 2016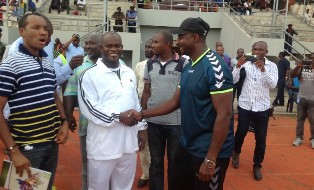 The Executive Governor of Kogi State, Alhaji Yahaya Adoza Bello has again reiterated his administration's support and encouragement for the state owned clubs, Kogi United and Confluence Queens to further make the state proud in their engagements.
Governor Bello who stated this on Sunday at the Novelty Match to mark this year's Democracy Day celebration noted that his administration would show much interests in sports to fish out hidden talents and encourage the discovered ones for Kogi state to reclaim her lost glory among the sports reckoned state in the country.
While presented with the two state clubs by the chairman, Abdul Sule, the youngest governor in Nigeria promised that welfare of the state clubs would improve under his government, with a determination and focus to give sports total attention.
He declared that Inter-Local Government sports competition shall be organized by the state government in selected sporting events to further discover and nurture talents from nooks and crannies of the state.
Yahaya Bello however called for calm from the people of the state as life would soon return to normalcy as his administration is ready to make Kogi a state to be proud of once again.
At the end of the interesting novelty match witnessed by a mammoth crowd, Governor Yahaya Bello led team defeated the team led by his deputy, Elder Simon Achuba 4-1 which the governor opened the score sheet with a sublime half volley for his side and won his side a giant trophy.
Wale Mustapha