Remo Stars Appoint Nduka Ngbade As Technical Adviser
Published: May 31, 2016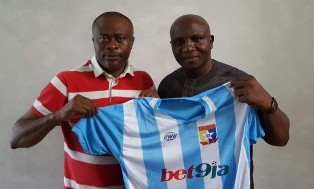 Nduka Ugbade will take over as the Technical Adviser of Remo Stars from the 2015/16 season.
Ugabade, who was the Flying Eagles assistant coach, has a wealth of experience as a footballer and also as a coach will be in charge of the team this season as Uche Okagube remains the Head Coach of the team.
Announcing the appointment, Kunle Soname said: "Nduka is quite simply one of the best coaches you can find around the country today.
"He has played at the highest level and also an inspiration to players in the country and of course he's wealth of experience in the National team set up will be useful in propelling the team in gaining the promotion ticket at the end of the season"
"I would like to take this opportunity to welcome him to Remo Stars Football Club. His philosophy and track record is ideal to take the club forward."
Nduka Ugbade said: "It's a special honour for me to become the Technical Adviser of Remo Stars; it's a club I felt an affinity for immediately I was approached for the job.
"I am very excited about the setup of the club which am quite impressed and already am feeling at home. The ambition of the club speaks volume and I also share the same ambition with the club.
"This is a good move for me as I am looking forward to managing this club to success starting with gaining promotion with the club to the Premier League because it's where the club deserves to be and am looking forward to enjoying the magnificent support of the fans in the coming years."
Michael Onikute, Media Officer Remo Stars