NFF Supremo Pinnick, Green Plan To Wield Axe On Coach Manu; Meeting Scheduled For Monday
Published: June 18, 2016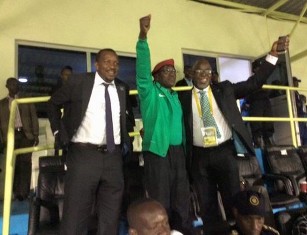 President of the Nigeria Football Federation, Amaju Pinnick, and Chris Green, chairman of the technical committee, are investigating reports that coach Manu Garba was involved in underhand dealings in the selection of players invited to the Golden Eaglets get-together,
allnigeriasoccer.com
has been informed.
In the light of the foregoing, NFF officials will hold a high-level meeting on Monday, June 20th and they will deliberate on whether or not to do away with the services of the 2013 Fifa U17 World Cup-winning manager.
Pinnick and Green are not comfortable with Manu Garba as the helmsman of the Nigeria U17s based on several incriminating reports they have received from agents who are unhappy with the way the Golden Eaglets is being handled.
Firstly, to checkmate the activities of Manu, the NFF Supremo personally appointed his kinsman Jolomi, ex-coach of Warri Feeders, as assistant coach of the Golden Eaglets while Green brought in the goalkeeper trainer, Ernest, from a team in Port Harcourt, and both were instructed to monitor him.
Chris Green recently watched the Golden Eaglets at training and warned Manu Garba to return all the bribes he collected from agents to invite their wards to the national team and send the boys packing.
NFF Board Members who are from the same part of the country as Manu are the ones keeping him in his job and it remains to be seen if they will save him from being dismissed on Monday.
Ifeanyi Emmanuel
Photo Credit : thenff.com
Latest News