Okwa, Jerome On Target In Kogi Utd Win Vs Kaduna Utd
Published: June 19, 2016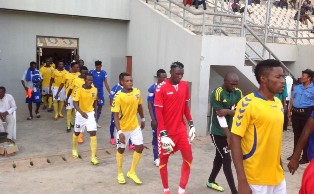 Kogi United on Saturday defeated Kaduna 2-0 in the Week Four of the Nigeria National League, NNL in Lokoja.
The near perfect dominance for the Yahaya Bello Boys saw them scoring the two goals in first half in an interesting game played at the Confluence Stadium, Lokoja.
Nelson Okwa chest in a crash from Babangida Chindo in the 18th minute to give Kogi United a deserved lead.
Bolaji Micheal could have doubled the lead for Kogi United in the 24th minutes as he saw his 22 yard shot went off target.
And Chindo was the provider again in the 24th minutes when he beat offside trap of Kaduna United to find himself with the keeper to beat.
David Walbe came out wrongly to pushed Chindo off the ball and referee Shaffi Ahmed Tanko from Niger wasted to no time to point to the spot.
Kaduna United walked to the sideline to delay the game for four minutes but that didn
'
t deny John Jerome to score after he saw his penalty saved by Walbe but redeemed himself as he took a rebound to make it two nil for his side.
First half ended with two goal lead for the Coach Ishaya Jatau side.
The second stanza saw almost similar fashion for the home side, but the Lokoja based side had themselves to blame as they wasted numerous scoring opportunities.
Kingsley Iwuji had the best chance to score when Ashadi Destiny combined well with Jerome and Bolaji to give a finish pass but the left back volley over the cross bar after Walbe rushed out.
Kaduna United
'
s only chance in the final stage saw Musa Aminu
'
s shot too weak to beat goalkeeper Ogundare Detan in goal.
Head Coach of Kogi United, Ishaya Jatau who expressed happiness with his side
'
s victory believed the Lokoja boys could have score more goals.
"I
'
m excited with the victory but not happy with our wasted chances, we could have score more than five goals today," begins Jatau.
"I
'
m still confident that we would get our point on the road as I believe in my team and what we are doing, we only want the fans to be patient with us," he said.
Kaduna United striker, Thomas Acheneje admitted that their tactics were cut short by Kogi United today adding that their hosts were the better side just as he believed Kaduna United would get it right next game.
Kogi United have garnered six points for four games. The Bello Boys will face Yarmalight FC in Gombe next Saturday.
Wale Mustapha