Super Eagles Glovesman Speaks Out On Move To FC Ifeanyi Ubah
Published: June 25, 2016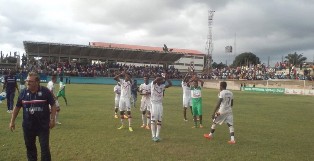 Fresh from signing for FC Ifeanyi Ubah and also keeping a clean sheet on his debut, Super Eagles goalkeeper, Ikechukwu Ezenwa has said that he thinks that he and his team mates have all it takes to become a great team.
Ezenwa also disclosed that he didn't think twice before signing for the Anambra Warriors because every player of his caliber wants to player for an ambitious club like FC Ifeanyi Ubah.
How do you feel joining FC Ifeanyi Ubah?
It's a great feeling to join this club, I have been wishing to play in this type of club and then my debut was a success with me keeping a clean sheet in my 1st game. I give God all the glory and honor.
You are a player with a lot of experience. In what aspect can you help improve the team?
It's a gradual process, before I made the decision to join FC Ifeanyi Ubah, I knew that they are a club with ambition and am an ambitious person, we have quality players, both the new ones and the old ones, with unity and understanding we are going to make a great team.
Looking Ahead To Sunday's match, what can we expect?
It is going to be a great game because 3SC are a traditional club, but I believe that by the special grace of God we will come out here with something.
What's Your Message For the Fans Of FC Ifeanyi Ubah?
They should keep praying for us, we are going to do our very best to make them happy, make them proud and by God's grace, we won't disappoint them.
Diegwu Nwankwor