Kogi United Hold FC Yarmalight To 0-0 Draw In Gombe
Published: June 27, 2016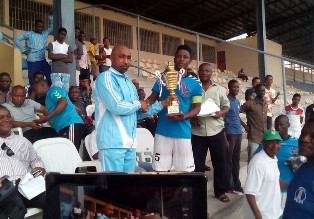 Goalkeeper Ogundare Detan was the hero as Kogi United secured a goalless draw against FC Yarmalight in the Week 5 of the Nigeria National League, NNL encounter on Sunday.
The tension soaked encounter that took place at the Pantami Stadium, Gombe saw United giving their hosts a real fight and could have gotten a a lead from Chindo Babangida when he got a cross from Jerome on the right flank in the opening 12th minutes.
Nnamdi Martins was gifted with a chance to score for Yarmalight in the 24th minutes, off a good pass from Mohammed Isah but had his shot went wide from close range.
And it was the turn of United a minute later as United captain Abiodun Afolabi combined well with Micheal Bolaji to take a good pass to Jerome who powered past two markers and his final shot went just an inch wide from goal.
Yarmalight's danger man Danjuma Davisu tested Detan on numerous occasions having seen their moves to United box cut off, but the lanky goaltender was able to deal with the pressure and goal attempts each time.
The hosts keeper Abubakar Abdul helped to keep Yarmalight in the game after denying Chindo from converting United's best chance of the half.
The slippery midfielder was a yard ahead of his marker to the box, he sent a powerful shot to Abdul who could make a punch to stop the ball from going inside the net.
While Detan was making a wonderful saves for United, it was all about Chindo inside the hosts half as he was tormenting Yarmalight's defense with great support from Jerome.
The defense of United was called to real duty with just a minute to end the first half when Davisu took a solo run into the box, he dribbled past Detan who had dived to take him off goal range, but when the bulky winger thought he had scored for Yarmalight, James Iko found himself in front of goal mouth and made a clearance to rescue United from conceding.
First half ended goaless as both sides went in disappointed haven got a chance to score.
The second and final stage of the game saw exchange of possession from both ends as Yarmalight employed more of long balls to frustrate United defense but Detan- a product of Kwara Football Academy- was at his best making wonderful saves for United.
Chindo, again, won the best chance for United in the second half when Iwuji sent in a cross from left but the midfielder's effort went off target to the surprise of all at the stadium who expected the ball in the net.
Countless number of set pieces were awarded to the hosts inside Kogi United's half, it was Davisu who always initiate them but the defense, including Detan were dealing with them till the centre referee Nurudeen Mohammed from Bauchi brought the game to an end.
Kogi United with six points will next host Katsina United on Saturday in Lokoja.
Wale Mustapha