Ibom Angels Girls Being Treated Like Slaves
Published: September 28, 2016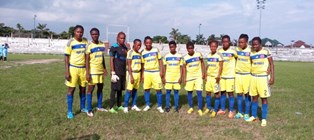 All isn't well in the camp of Ibom Angels as the Nigeria Women Premier League (NWPL) team haven't been well catered for by the club management in the ongoing league season.
The team is on half salary despite their good performance in the Group A of the top tier division.
May, June and July salaries was paid in half. The girls are yet to receive their August remuneration as they face a bleak future.
The highest paid player in Ibom Angels has a monthly salary of N55, 000.
The girls are only given N1,500 daily for feeding in most cases when they travel for away games and sleep three per room in a sub-standard hotel.
Players are usually treated like slaves. The girls train like a glorified amateur side as they usually appear in foreign jersey instead of the official club training kits.
There is no water system in the girls camp. Away match bonus of N20,000 and home bonus of N10,000 hasn't been paid as at filing this report.
According to a top source in Uyo, this development isn't acceptable and against the agreement reached with the pay masters and the players.
It was learnt that the poor turnout of players and officials in training might be due to alleged failure to receive full salaries and the poor working condition at the club.
Payment of half salaries to the players might not be unconnected with alleged paucity of fund.
A source in the team's camp, who preferred anonymity said all the state government tried to do was to ensure resources was available to the team and how the monies are spent is a riddle to him.
The case of the girls at their camp is an eyesaw. The landlord even threatened to send them packing because of how poor his facility has been handled. Their two-year rent was only paid partly three weeks ago.
Players have been warned not to protest as there are spies ready to expose the rebellious ones to the Sports Commissioner and Akwa Ibom FA Chairman.
Efforts to reach the Sports Commissioner Emmanuel Uko and FA Chairman Emmanuel Ibah on the matter proved abortive.
Ibom Angels are third in the Group A of the NWPL table with 21 points from 11 games.
Igho Kingsley