Izu Joseph Death Is Reminiscent Of Ex-Aston Villa Striker Who Was Shot By Police
Published: October 17, 2016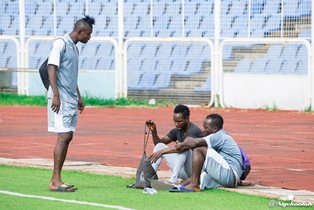 The Nigeria Football Federation have expressed their condolences following the passing away of Shooting Stars central defender Izu Joseph.
Joseph tragically lost his life this past weekend in Bayelsa State when a stray bullet fired by a yet to be identified soldier hit him.
The Nigeria Football Federation stated via Twitter : "Our thoughts are with the Mgt. & Staff of @Official3SC on the shocking loss of their player, Izu Joseph. May his soul Rest In Peace! #RIPIzu."
Shooting Stars were shocked to learn of their player
's death, tweeting :
"A Shooting STAR is gone! Izu Joseph is gone! Flamboyant defender is gone! RIP, brother. What a life! May God strengthen his family #Tragedy."
Izu Joseph helped Shooting Stars beat the drop in the just concluded season, with the Oluyole Warriors finishing fourteenth in the final Nigeria Professional Football League standings.
His death is reminiscent of former Aston Villa striker Dalian Atkinson, who died after he was tasered by Police near his home in August .
Igho Kingsley