Revealed : Ogun Sports Commissioner, FA Boss Slap Each Other
Published: November 02, 2016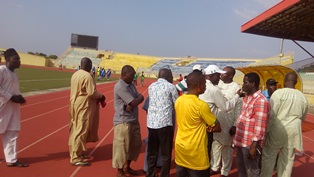 Much has been said and written about the events that characterized the un-played but won match between Abubakar Bukola saraki (ABS) Ilorin FC Week 14 NNL Group B2 match with Gateway FC, except for some behind the scene incidences that will shock you.
The Commissioner for Sports and Youth Development in Ogun state, Afolabi Afuape and the State's Football Association Chairman, Majekodunmi slapped each other on why their team did not file out to play the all-important decider in the group.
The chaos started with an argument near the bench of the visitors between the duo, as the Commissioner insisted that the team should not file out for the match, but Majekodunmi cautioned him that stopping them from playing was a wrong decision.
'The rules are clear. Let the players play the match. Better still, we can play under protest, but it's against the rule not to play the match', Majekodunmi was heard to have cautioned.
But the overzealous Commissioner shut him down, calling him names, and that resulted into a shouting match between the two.
'Shut-up, what do you know about football? What you are telling us to do is against the rules, and should there be anything, you will bear the consequences', he said.
The tempo of the argument increased after the match officials performed the walk-over rituals, which ensured that the homers, ABS FC have been awarded three goal and three points.
On their way out of the stadium, they accosted each other again, and this time, they raised hands against each other, and were later separated.
They landed slaps on each other's face before the separation though.
Igho Kingsley