Is That The Nigerian Kid? Lateef Omidiji Turns Heads At USA Training Camp
Published: November 23, 2016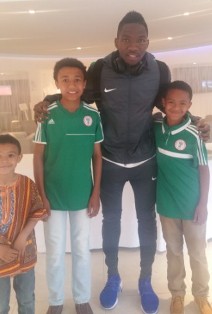 Falconets striker Sophia Omidiji has hinted that her brother, Lateef Omidiji Jr, remains committed to the United States ahead of Nigeria at international level.
And the
FC Eindhoven star, who flew to California to watch Lateef in action during the USA U14s get-together , has backed the
FC Dordrecht teen sensation to be promoted to the U17s in the not too distant future, having impressed at the
training camp.


"To be honest- if Nigeria gets her act together at youth levels, put a team together at U15 (which I don't see them doing because of funding) I think there's a chance but he is happy with US Soccer. At U17 three years from now, who knows, " Sophia Omidiji told
allnigeriasoccer.com
.
"He was easily one of the top performers at the camp as I was there for the last two days, flew in to give support."
So much has been said and written about Lateef Omidiji prior to his first call-up to the United States squad, and the 13-year-old did not disappoint one bit.
"He was the most technical, fastest and decisive with the ball- didn't score (played on the left wing) but his qualities are never hard to see- all I could hear in the stands are people watching saying "is that the Nigerian kid?"
"Is that the kid from Holland? "wow, that kid is good" Sophia added.
Several teams in Europe not limited to Arsenal, Barcelona and PSG are believed to monitoring the progress of Lateef Omidiji, who has been dubbed the new Luis Suarez and a higher version of Karamoko Dembele by some of the top scouts in the world.
Ifeanyi Emmanuel