Rivers United Off To Madrid For Pre-Season Training
Published: December 03, 2016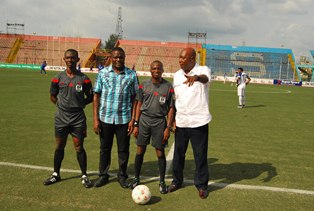 Rivers United FC will round off their pre-season preparations for the 2016/17 season in Madrid, Spain.
The contingent of 41 persons (28 players and 13 officials) will depart for Spain on Monday, December 12 via the Nnamdi Azikiwe International Airport, Abuja.
General Manager of the Port Harcourt-based Nigeria Professional Football League (NPFL) club, Chief Okey Kpalukwu revealed that the Rivers United contingent will spend 10 days in the Spanish capital.
While in Madrid, Rivers United FC is expected to face a La Liga club in a tune up game while proposed friendly matches have already been lined up against Segunda B clubs, Levante Union Deportiva II and Club Deportivo Alcoyano.
The Rivers United squad will also attend training sessions of a La Liga club (as well as the sessions of the youth teams of the club).
The technical crew of Rivers United led by manager, Stanley Eguma are also expected to be huge beneficiaries of the programme as a crash course on coaching methodology has already been arranged with the La Liga club.
On Monday, December 13, the Rivers United contingent will attend a La Liga match from 20:45 GMT.
The Rivers United contingent is due back in Nigeria on Thursday, December 22.
Igho Kingsley