Burial Of Slain Izu : Parents, Shooting Stars, Ijaw Congress, NANPF Call For Justice
Published: December 03, 2016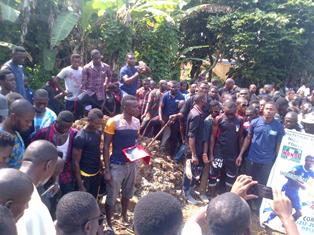 The grieving parents of the slain Shooting Stars defender, Izu Joseph, Mr & Mrs George Joseph, have joined others to call on the Federal Government to bring the killers of their son to book.
The calls came shortly after the burial rites of the player whose life was cut short by the bullets of armed security personnel in Okarki area of Port Harcourt, Rivers State, on 16th, October, 2016.
It was indeed a free flow of tears, wailings and teeth gnashing when the body arrived at the burial site and a complete shutdown of activities on all the streets passed by the long convoy!
In his sermon by the grave side, Rev.Father John says everyone comes from dust and to dust we shall return.
He admonished people to live Lord dominated life with total dedication, reminding everyone to brace up as death would come unannounced.
Reacting shortly after the interment, Shooting Stars
'
Akinwumi Akinyele described Izu Joseph as a committed and dedicated player who is already being missed by the club.
He calls on the appropriate authority to act fast at bringing the killers to justice.
Also, toeing the same line was the General Secretary of the Ijaw National Congress, Victor Butubo who believes the Federal Government should not turn deaf ears as Izu
'
s killing is already a dent on its image.
For the General Secretary of the National Association of Nigeria Professional Footballers, Comrade Austin Popo, "today as an advocate for fairness and justice shall fight to the end and get justice for Izu" .
Responding few minutes later in his residence, Pa George Joseph, says he is only interested in getting justice for his son but frowned at perceived lopsidedness in the posting of security personnel to Niger Delta areas.
"I only need justice for my son. And I should say this too, the policy of posting particular ethnic group in the Army to Niger Delta is not good for the unity of the country"
Olanrewaju Akanbi Agiri