Arsenal Midfielder Iwobi Amazed By Popularity Of Barcelona Superstar Messi
Published: December 05, 2016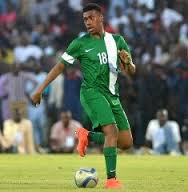 Nigeria international Alex Iwobi has reflected on the popularity of Barcelona superstar Lionel Messi among kids at the Camp Nou.
In an interview with UEFA TV, the Arsenal youngster said that the kids believe that it's only Messi and refused to acknowledge the other stars in the ranks of Barcelona, and also spoke about the atmosphere the Champions League creates, especially when teams face Barcelona at home.
"Oh my gosh. Before the game obviously there are the kids, the little kids. They want to hold everyone's hands," Iwobi said.
"We come out, and it's "meh..." then Barcelona come out, and it's Messi, Messi, Messi, Messi."
The Arsenal number seventeen added : "I was thinking : "There's Neymar, Suarez, there's other people as well". But no, " Messi, Messi, Messi".
"It's mad. I can't even describe it. Walking out, it's just crazy. And then you hear we are the champions!"
Arsenal will travel to Switzerland to play Basel tomorrow and Iwobi will be hoping to put up a strong showing in the final group game.
Niyi Adesanya.