How Nwakali 2.5 Million Pounds Fee From Arsenal Was Shared Among Diamond, ASJ & Nigeria U20 Coach Amuneke
Published: December 21, 2016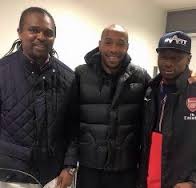 Diamond Academy have released a statement to
allnigeriasoccer.com
clarifying that they did not renege on the agreement reached with ASJ Academy with respect to the transfer of Kelechi Nwakali to Arsenal.
The agreement witnessed and signed by both Emeka Amajiriaku and Allwell Nwakali on 8th May 2015 stipulated that Diamond will take 65% while ASJ take 35% of the transfer proceeds.
The agreement Diamond Academy had with Stellar Group London was to negotiate separate money for the Nwakali family directly from Arsenal.
However, Stellar Group failed to get money for the family from Arsenal at the end of negotiations. Subsequently, Allwell rejected that arrangement with ASJ and demanded that they (the Nwakali family) should be considered in the arrangement.
"They cited their bad experience with Emma Amunike when their brother Chidiebere Nwakali was transferred, " Diamond Academy stated.
"Based on this reality, we called back ASJ and re-negotiated to take 15% out of their 35% and match it up with 10% of Diamond's 65% and give to the family and another 5% taken from Diamond's share to be given to Emma Amunike for settling the coaching crew and staff of that Under 17 team that won the U17 World Cup in Chile.
"So it was Diamond 50%, Nwakali family 25%, ASJ 20% and Emma Amunike and crew/staff 5%."
Allwell Nwakali (on behalf of Kelechi Nwakali's family) received £613,375, Emeka Amajiriaku of ASJ was paid £490,700 in total by Diamond Academy, while the sum of £110,800 (approximately N66 million) representing 5% of 2,250,000 pounds was transferred to Nigeria U20 coach Emmanuel Amunike.
Ifeanyi Emmanuel