Remo Stars Amiable President, Soname Insists Referee Was Not Bribed
Published: January 24, 2017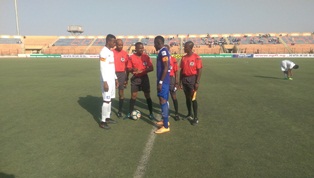 Remo Stars Football Club President Kunle Soname has debunked news going round the media that center referee A. Dankano who officiated Remo Stars vs Abia Warriors was financially induced.
The Sky Blue Stars secured a 1-0 win courtesy of Victor Mbaoma 90th minute penalty and the club president has stated that the referee A. Dankano was in no way induced in making his call on the pitch of play.
Speaking to RSFC Media Soname disclosed.
"
I have read in many chat groups, and in the media insinuating that center referee A. Dankano that officiated the Remo Stars vs Abia Warriors was financially induced to make that wrong call.
"
My position is that the officiating was very fair until that error. I was convinced the call was right until I saw the replay on television.
"
He denied Remo Stars a 50-50 penalty call in the 59th minute, he could have given that if he was induced.
"
The game was live on cable television and was viewed across the country and I think it was a well officiated game save for the last minute mistake.
"
However, it is a lesson for the gentleman because the rule is DO NOT GIVE UNLESS YOU ARE SURE. The call became this bad because it decided the outcome of the game.
"
Referee A. Dankano has been suspended by the Nigeria Football Federation Referee Unit.
Igho Kingsley