Nigerian Pastor TB Joshua Heals Man Utd's England U17 Captain, Dubbed The New Ronaldinho
Published: April 24, 2017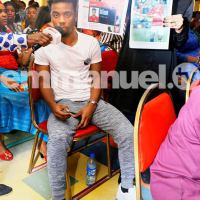 Highly-rated Manchester United attacking midfielder Angel Gomes gave a testimony on Sunday of being healed after Nigerian pastor TB Joshua prayed for him.
The England U17 captain visited the Synagogue Church of all nations, SCOAN Lagos due to a leg injury, and was among those healed during the services and ministration yesterday.
Immediately after the prayer, Gomes started exercising – jumping up and down to prove that he has been healed by TB Joshua.
"I've known The SCOAN for a long time," Gomes was quoted as saying by watchedtbjoshua.wordpress.com, and added that he visited the church after watching others healed on Emmanuel TV.
Gomes revealed that injuries have been affecting his performances for club and country, especially before important matches.
Born in London, the skillful youngster is the cousin of former Manchester United star and Portugal international Luis Nani, and has been dubbed the new Ronaldinho by the English media.
Ifeanyi Emmanuel
Photo Credit : Emmanuel TV
Latest News