CAF Champions league:Al Ahly Bus stoned,two players injured
Published: August 15, 2010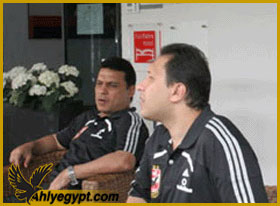 The build up to Ahli's Champions League clash at Algeria's JS Kabylie on Sunday was dominated by contradictory headlines – a warm reception and a stoned bus.
Things looked bright and on the right road when Kabylie warmly welcomed Ahli's contingent in an attempt to ease tensions between Egypt and Algeria after two bad-tempered World Cup qualifiers last year.
Several Ahli officials and players, including inspirational playmaker Mohamed Abou-Treika, said they were grateful to Kabylie for ensuring the Egyptian champions enjoyed a comfortable stay in Algeria.
However, Saturday night was not so comfortable for an Ahli side who were preparing to hold their training session when some people hurled stones at their bus to injure striker Osama Hosni and central defender Ahmed Al-Sayed.
Ahli chairman Hassan Hamdi immediately reported the incident to the Confederation of African Football (CAF) representative.
Ironically, Ahli survived another bus incident, but for a natural cause, the day before when it was about to flip over due to heavy rain.
"What happened today is an individual act that will not affect the Egyptian-Algerian relations," Hamdi, who heads Ahli's delegation in Algeria, said in the aftermath of the unfortunate incident.
"It will not affect the players, everything is fine now," the mild-mannered chairman added.