OLISEH apologizes to Liberian fans
Published: August 15, 2010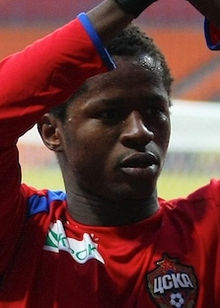 Liberian born Nigerian CSKA Moscow striker, Sekou Jabateh Oliseh has apologized to fans of Liberia's Lone Star after the striker failed to turn out in Monrovia for the tournament gear to give Lone Star Hungarian tactician Bertalan Bisckie the chance to select players for the new breed Lone Star.
Jabateh noted that he made all efforts to turn out for the match which was held on Wednesday, but his absence was due to problems beyond his control.
He said the airport in Moscow was closed for a protracted period due to fire and that there were no aircraft making business in that part of the world.
"Sorry to all my fans who waited for me to arrive in Liberia, I could not make it due to some problems in Moscow, I hope that I will try to come for the next game in Liberia. I should have left Moscow on Monday morning before I was told there is no flight leaving Moscow due to the fire,Again I say sorry to my fans and my heart is with Lone Star," the master dribbler noted.