Watford Starlet Uche Rated Africa's Top U21 Destroyer In Europe Top Five Leagues
Published: June 17, 2017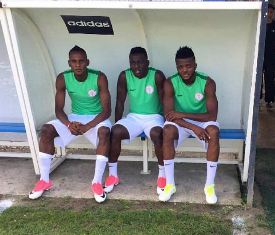 Watford loanee Uche Agbo has been ranked among the top four Under 21 players with the most tackles in Europe top five leagues consisting of La Liga, Premier League, Bundesliga, Serie A and Ligue 1.
The midfield enforcer and central defender won 77 tackles in the 31 matches he played in the Spanish top division last term and was the only African young star considered on the list.
Uche Agbo, 21, had a tackle-winning percentage of 66, and ranked second in that category behind Bayer Leverkusen fullback Benjamin Henrichs.
Henrichs, Lucas Torreira (Sampdoria) and Dani Ceballos (Real Betis) were the only U21 players that won more tackles than Uche over the course of the 2016-17 season.
Henrichs won 98 tackles, Torreira 97 while Spain U21 star Ceballos won 92 tackles.
Ifeanyi Emmanuel