Exclusive:Wolves star,OKE AKPOVETA testing in Norway
Published: August 17, 2010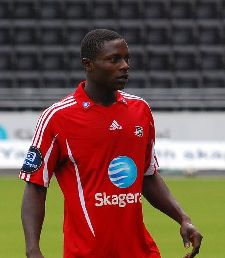 Warri Wolves player,Oke Akpoveta tested at Norwegian premier division side,Odd Grenland but the club did not offer him a deal.Odd Grenland who also have another Nigerian,Chris Bentley,playing for the club claimed that they did not have the money to sign the player.Oke impressed
Odd Grenland coach, Day Eilev Fagermo during a three-week trial in June.
''He has all the prerequisites of a good player.Give him a couple of more years,i think he is very good.He has a good shot,is bright and has strong skills better than any other Norwegian 18-year-old.'' Fagermo,the Odd Grenland coach said.
Yesterday,Akpoveta showed up at Aalesund F.K(a premier division side in Norway) training ground to start a two week trial with the club.He was scheduled to start trials with another Nigerian player,Abiodun Kayode Thompson but Abiodun had problems securing a visa and is yet to arrive Norway.
''I know very little about them.They will be trialing here for some days,so we'll see what comes out of it.If they are not good enough,we send them back immediately,'' the coach of Aalesund,Kjetil Rekdal said.
The player's agent,
Atta Aneke, believes it should be possible to release the player from their Nigerian club,Warri Wolves.
''They are not expensive players.At least if you compare them with the Under 20 players in Norway,'' said Aneke.
Oke Akpoveta who recently turned 19 and scored seven goals for Warri Wolves last season says he is the right man for Aalesund.
''I believe i am right for the club.If Aalesund sign me,i will repay their confidence in me, '' Akpoveta who described himself as a fast and strong player said.