Rohr Deserves Some Credit : Moses, Iwobi, Mikel Have Impressed For Eagles
Published: October 12, 2017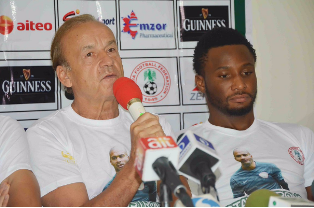 The German tactician has guided the national team through the choppy waters of negotiating World Cup qualification, and so a portion of the praises being bandied about should go to him.
October 2017 would memorably be remembered as the month in which the Super Eagles ushered in a new paradigm of efficiency, less-fancied but yet unfazed bunch who just about took a quantum leap from muted, leaden mediocrity onto rip-roaring brilliance in a manner it was initially less-expected to come.
And at the center of it all was a shrewd Gernot Rohr — it must be said that he is not overly officious a character but
the way in which he had remarkably turned around the fortunes of the national team need not be completely thrown out of the window.
After all, this was not necessarily a team of world-beaters, (of the 2013 Afcon heroes,only a quintet had remained) one which bore the jarring hallmarks of banal, untapped quality and staid youthfulness, but yet, one would acknowledge the brilliance that has so far, shone through, like a beam of bright like would through a dead dark tunnel, in the course of the now celebrated qualification.
Four wins in six games,eleven goals dispatched and just six conceded is no simple feat in management and when you throw in the fact the Super Eagles atimes, looked unplayable under his guidance, then sound encomiums must go to Rohr.
The German's appointment back in August 2016 was seen as an extremely underwhelming proposition, especially after the NFF had thrown up a fiasco with naming a certain Paul Le Guen.
But then, he had gone about his job in calmness,with an air of unflinching superiority to put together a team who would willing to give everything to win for him, and they had as well, repaid his faith.
His team,young and relatively inexperienced though, the 64-year-old has infused a stoic belief in them, ability-wise, a blueprint they had equally embraced faster than previous Super Eagles coaches and in the course of it, inculcating a high level of productivity within the team.
This kind of efficiency is far from serendipitous, but one which is wholly built on the back of trust and dynamism — defying daunting odds and surmounting the many stumbling blocks which faced his team had also helped this cause,a sort of purification in the crucible of adversity.
There is every reason for optimism now as the Super Eagles seek to make it past the second round of the World Cup finals for the first time since their debut. Rohr has been central to this, having fanned the embers of hope for the faithfuls with his lucid management.
In the ilk of Alex Iwobi, Kelechi Iheanacho and Simon Moses, the manager has got plenty of flair certainly, as each has shown,team captain Mikel John Obi had been the coalescent binder, the adhesive that brings the team together in a broader, general context.
With the mercurial Victor Moses seemingly coming to life again alongside the quick bustle of Odion Ighalo, perhaps, this is a combo of attackers who seem to have struck up a perfect,incisive footie chemistry.
And then,the floundering of CAF's Group of Death opponents had made it all the more easy.
That said, tougher tests would come in Russia surely but make no mistake, following his activities already,this counts as a truly remarkable achievement by the German,one which can not be simply waved away.
So far, the mastery of effulgence seems to be the theme of Rohr's reign.
Emmanuel Chinaza