Real Madrid Trail Arsenal-Linked Nigerian Striker To England
Published: October 17, 2017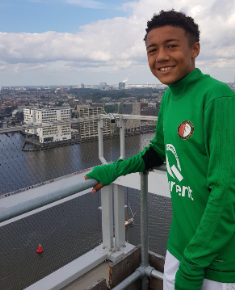 Real Madrid have not ended their pursuit of Nigerian wonderkid Lateef Omidiji Jnr. despite strong suggestions that the striker has agreed a deal to join Arsenal when he attains the age of majority.
The European champions were in England last week to run the rule over the Feyenoord starlet in the Premier League
invitational and see how he matches up against the top British players his age.
Lateef Omidiji Jnr. caught the eye in matches against Chelsea, Arsenal, West Ham and Fulham U15s.
''We have been watching Lateef for the past two years and continue to watch him-we already knew that he had technical abilities, great insight/clear understanding of the game and the right mentality to be a professional in Spain,'' a Real Madrid scout informed
allnigeriasoccer.com
.
''We also know that he has the physical qualities to compete in our league because of how fast he is and it's not a knock on Dutch football but speed and strength is not their forte so we wanted to see him match up  against players his age (most were actually older than him) and to see him be faster and stronger was a sight to see.
''We see Xavi at Barcelona and Karameko at Celtic and those are what the media consider the top two and place Lateef  in the top five, that could be further from the truth because Lateef  is far superior with regards to speed and power and is at the same level with them with regards to technique but his mentality is also far superior to the other two.''
Real Madrid are planning to make move for Omidiji as soon as UEFA rules and his other obligations permit because they envisage that he'll be an elite player in the next five years.
Ifeanyi Emmanuel