Why Victor Moses Has Strongest Case To Clinch AFOTY Ahead Of Liverpool Duo
Published: November 23, 2017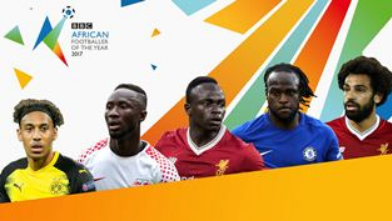 Football, being far from a spreadsheet is one which is clearly illustrated in Victor Moses's case that perhaps, as a predictor, procedure is more indicative than rampant results.
Individual awards in football are hardly straightforward in the sense that the criteria are not always clear. So where do we come from here then?
Of the quintet nominated for the BBC African Footballer of the year 2017, an illustrious list which includes RB Leipzig's Naby Keita, Borrusia Dortmund's Pierre-Emerick Aubameyang and Liverpool duo Sadio Mane and Mohammed Salah, perhaps the Chelsea ace must have made the strongest case to clinch the prize. And indeed, it is very easy to see why.
After Moses's Chelsea career had badly stagnated owing to a plethora of injuries and series of underwhelming loan moves, it seemed more likely that he was set to cut ties with the London club by the summer of 2016.
But that idea was soon jettisoned as Antonio Conte's managerial masterstroke thrusted the 26-year old at the deep end, with the players going on to run roughshod over opponents and then to the Premier League title.
What makes that success all the more remarkable was that it required an unbelievable makeover, arguably one of the
most unprecedented in the history of the division — Conte simply saw it fitting to convert a paperweight winger into a marauding wing-back, a decision which proved shrewd.
From there on, Moses, initially an afterthought for the Blue Army became the most important player for Chelsea, like a phoenix risen from the ashes, nailing down that right flank and even proving indispensable as the Stamford Bridge outfit took a relentless march to the title.
This campaign, he had equally looked irreplaceable as Chelsea had found out, with back up wing back, Davide Zappacosta and Cesar Azpilicueta deputising unconvincingly at different stages and so the Nigerian remain first choice — a tactical nous which points to the fact that Chelsea might do little without him.
On the international stage, it would even be akin to tomfoolery to do away with him as he played a starring role for Nigeria, impressing as they effortlessly picked their Russia World Cup ticket, looking unplayable atimes especially when they had their talisman on song.
And then, as the only African who had engineered a title triumph in any of Europe's five major leagues last season, few would disagree that Moses is a genuine contender for this award.
So even while we all have to agree that his positional reinvention was the catalyst for his recent success stories for both club and country, why then should it not be fitting if the accolade is bestowed on him?
Wingback, perharps might not be a glamorous enough position to occupy(say to direct midfielders or strikers), but if the Victor Moses effect on Chelsea and Nigeria is anything to go by, then he should be crowned Africa's finest.
Emmanuel Chinaza