How The Super Eagles Could Line-up At The 2018 World Cup
Published: February 19, 2018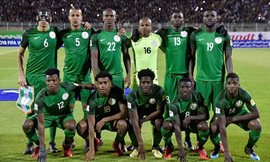 As the start of the world's biggest soccer competition draws near, many football loving Nigerians both home and abroad would begin to wonder how best the Super Eagles could line up against oppositions.
It is no longer news that we have been drawn against football powerhouse Argentina, Croatia and Iceland.
I believe for most games in the completion the Super Eagles will line-up with a flexible 4-2-3-1 formation. I take a look at how we can field our players.
Goalkeeper
:   Rohr invited the young goalkeeper Francis Uzoho to compete with Ezenwa. Although, Uzoho impressed many with his calmness and ball distribution in a friendly against Argentina, Ezenwa would still be a  better choice
Back Four
:  I believe the two center backs need no altering, both Ekong and Balogun keep delivering when it matters. Provided there are no injury issues this would be the best partnership we can boast of.
The fullbacks might be a tricky one as it depends on if we the boss decides to go for a flat back four or the more modern one.
Ola Aina can fill in at left back or we can get Brian Idowu to do the job if need be. At right back it is going to be a tough one between Shehu and Ebuehi, not forgetting that Aina could also play that role.
The Double Pivot Role
:  We could have Onazi and Ndidi or Ndidi and Agu or Agu and Onazi. But I will stick with Onazi and Ndidi, they have both done it together in the past. Like we all know experience does matter.
The Hole
: This best suits Mikel Obi, where he can apply his experience and short passing attributes. One man many seem to be forgetting is Joel Obi. If indeed the gaffer needs am extra body in the opposition's box , we can count on the Torino man.
I am not saying this is Joel's best position but he brings lots of creativity with his game and we do not want to disrupt an already gelled double pivot partnership of Onazi and Ndidi.
Winger and Inside Forward
: If you have played a lot of football manager like I have, you would agree with me that this two work well in this system. Alex Iwobi and Victor Moses would be my pick.
The Frontman
:  Hopefully Iheanacho. Not having the best of seasons as we would have hoped, but you can't take away his brilliance.
This looks like a good fix, but the gaffer would have the duty to decide how he lines the team up. Hopefully we get a shot at the tournament that still eludes Africa.
Yusuf Jimoh