Wilfred Ndidi : From Central Defender To One Of The Best Destroyers In Europe
Published: February 23, 2018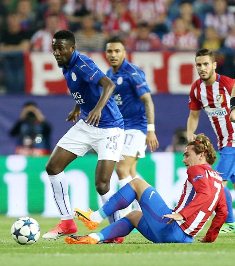 When I hear the song, 'started from the bottom', Ndidi comes to mind, well not every time but he comes to mind.
Ndidi started out as a central defender and but has since been converted into a ball winning defensive midfielder whose ball winning attributes has seen him become one of the best if not the best in two short years.
This remarkable progress saw him ranked 65th best player in the world by Sky Sports in 2017.
Born 16 December 1996, Ndidi spent his youth years at Nath Boys Academy in Lagos, where he won numerous accolades before being invited to play at the 2013 African U-17 Championship.
He later moved to the Belgian Pro League where he made his debut for Racing Genk against Charleroi on 31 January 2015.
He played a full back role in that game before returning to the centre-back position he played at the Nath Boys Academy.
He displayed a wide range of passing and shooting and began to be deployed as a central midfielder for the rest of the season.
During the Belgian League play-off game against Club Brugge, Ndidi scored with a long range effort which was adjudged to have traveled a massive 117km/hr after receiving an attempted clearance outside the penalty box, the goal was later voted goal of the season.
Genk agreed a reported £ 17 million deal for his services from Leicester in  December 2016, the deal which was later confirmed on 5 January 2017.
Ndidi has since made is presence felt making him a fans favorite at the King Power Stadium.
He was reportedly signed to replace N'Golo Kante but has since proved he is more than capable . He has played 44 Premier League games, scoring 2 and assisting 5.
Ndidi is gradually becoming what many would call a destroyer,  but with all this attributes of his he also has is Achilles heel, which is his passing, which has significantly improved since coming to the Premier League and also his discipline.
But all raw talents have their perks, with the right manager he can overcome all this. And I strongly believe we've a dynamite in Onyinye Wilfred Ndidi.
The world awaits your brilliance at the World Cup!
Yusuf Jimoh
Photo Credit : lcfc.com